Magicians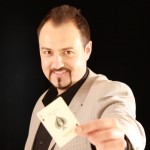 Micky Trickstar is one of Melbourne's premier entertainers and magicians.
For two decades Micky has entertained Australians with his visual and highly
interactive magic, delivered to you with a charismatic personality and
unique comical style that separates him from the rest.

With a background in acting and theatre, along with exquisite people skills,
Micky Trickstar is able to blend in and entertain people of ALL social
standings and walks of life.

Micky can also bring life and energy to your event as  Master of Ceremonies and/or presenter.

Many private and public events along with large companies, aged care
facilities and corporate functions have invited Micky Trickstar to dazzle
audiences with his tastefully cheeky humour and award winning magic. Now,
you are invited.

THE AMAZING MR TWIST!
Mr. Twist's magical entertainment is humorous & professional offering a variety of side splitting comedy & brilliant magic tailored to any age group, including live animals (doves & bunny), a funny talking puppet that performs magic, balloon twisting, face painting & much more. Perfect for your themed day activity or just for something different. So wave your magic wand, say the magic words and book Mr Twist now!